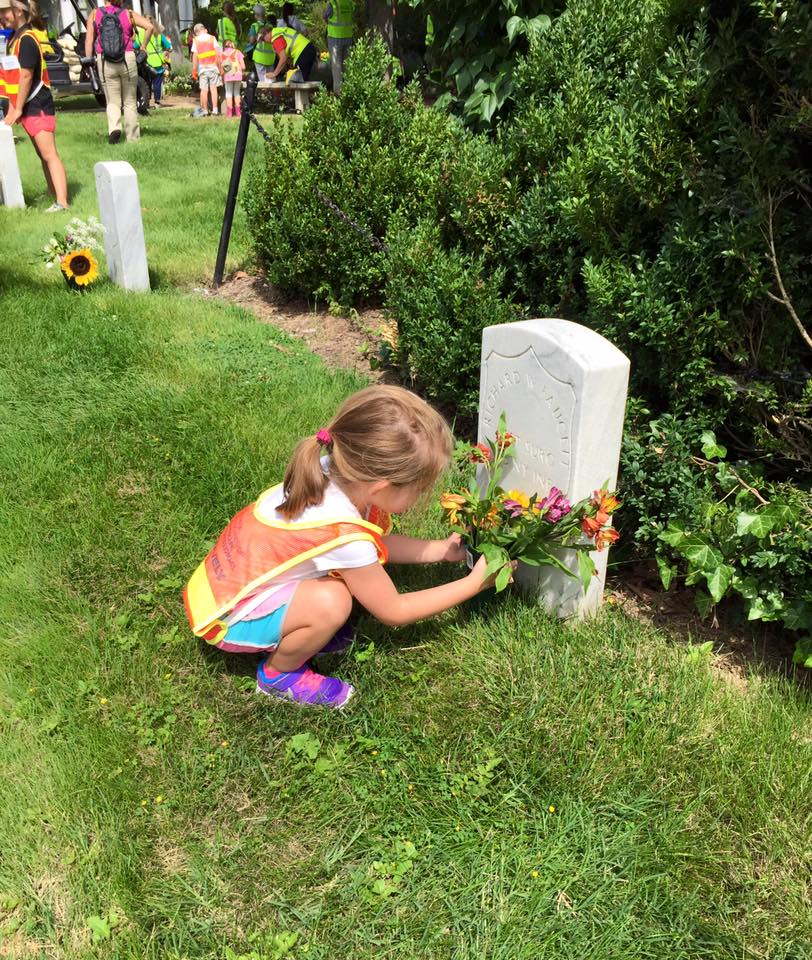 NALP's Renewal & Remembrance — A Family Day
Though I've participated in NALP's Renewal & Remembrance for many years, this year was especially memorable for me as I brought my 5 year old daughter along. Like many 5 year olds, she is full of questions, and about a week prior to the event, we started to discuss what we would be doing at Arlington National Cemetery. The physical work was easy for her to understand; her mom is a horticulturist! Flower arrangements, planting annuals, 'landscape work' – she's well versed in that. A tougher process was helping her to understand WHY we were doing this work.
We started with talk of cemeteries and who is buried at Arlington. Servicemen: men and women that fought for our country, the United States of America. Family members: the wives, husbands, daughters, and sons of the servicemen and women that fought for our country. Heroes: the men and women that spent their lives helping others.
The day arrived, and while excited, she was very quiet on our drive to the cemetery. During the opening ceremony, the Color Guard entered, and the questions came fast and heavy. Why are they making that 'hut' noise? Why is there only one girl? Why are they wearing different colors? Why are they so serious? I recognize that flag, it's the United States of America flag. When we were asked to step up front for the Pledge of Allegiance, her eyes widened and gleamed. She was going to stand next to real servicemen, maybe even get to touch them. While we recited the Pledge, her little head kept turning to the right to grab a glimpse of them.
During the Children's Program, the group of children and their adult chaperones spend time with an ANC historian, and are given a tour of Arlington House (former Custis-Lee Mansion). My daughter tells me later that every room had a fireplace because they didn't have air conditioning or heat in those days. We talk about how lucky we are to have air conditioning, heat, a place to live, water to drink, food to eat.
Next, she works to put together her flower arrangement to be placed in front of a headstone. She diligently selects her stems – sunflowers, alstroemeria, and babies breath. My mom helps her cut the stems, and she dutifully arranges them. When ready, we head to the next headstone and she places the vase in front. Mommy, tell me what it says on here. Who's buried here? Richard Faucett from New York, he passed away January 22, 1864. New York she knows; it's where we go skiing each year. Wow mommy, he must have been very far from his family. We talk about how servicemen and women leave their families, about how much they miss them, about how some never see their families again. We talk about active military and how these men and women are away from their families right now.
Later that night, we talked more about the branches of the military – Army, Air Force, Navy, Marine Corps, and Coast Guard. As Annapolis natives, the Navy rings familiar and we talk more about that. How do the people decide what type of military serviceman to be?
Through a 5 year old's eyes, I see even more clearly the impact we have. WHY do we do this work each year? We want to honor all buried at Arlington. We want to show appreciation for those currently in military service. We want to support the family members and friends of past and present military servicemen and women. When their loved ones come to Arlington National Cemetery they want to feel comforted, they want to feel close, they want to remember. The soft green blanket of grass, the shade of 200 year old trees helps create this atmosphere.
We spend just one morning assisting the dozens of landscape professionals who work year round at Arlington. My daughter and I talk about this too – what an important job those landscapers have, how their job is to help those who helped so many.