Held from March 2 to 4, 2022, in beautiful downtown New Orleans, this year's iCollaborate User Conference was another great success. Attendees walked away from the event with new knowledge, ideas, and connections that will help to propel their businesses forward.
At this year's event, Include Software partnered with McFarlin Stanford, a leading green industry coaching firm, to provide insightful education and demonstrate how to incorporate Asset into the daily needs of lawn and landscape operations.
McFarlin Stanford offered a three-track presentation schedule for distinct user groups, including executive/key leaders, finance; sales and marketing; and operations. The goal was to have something for everyone.
An Abundance of Opportunity
The educational lineup was jampacked—and there were opportunities for plenty of fun times, too. Michelle Gillenwater, office administrator with Jensen Gardens in Springfield, Nebraska, says that one of her favorite events was the iCREWtek Amazing Race. It allowed attendees to sightsee in New Orleans while also engaging with other Asset users.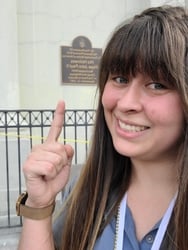 Gillenwater's selfie during iCREWtek Amazing Race
As a first-time attendee, Gillenwater says she was really excited to fit in as many activities as possible.
"I learned so much from the educational sessions that I attended and came back with many ideas that I wanted to implement," Gillenwater shares.
Among the concepts that Gillenwater brought home was "Blue-Sky Thinking."
Designed to bring new ideas to the table, Blue-Sky Thinking involves brainstorming with a no-limits approach that no idea is a bad idea. It's a great way to get ideas from team members who might not otherwise think to contribute. After all, sometimes it's the folks on your team that never get asked for their input who have the best ideas!
Gillenwater also plans to incorporate ideas from a session on "Lean Coffee," which is a concept of hosting structured but agenda-less meetings.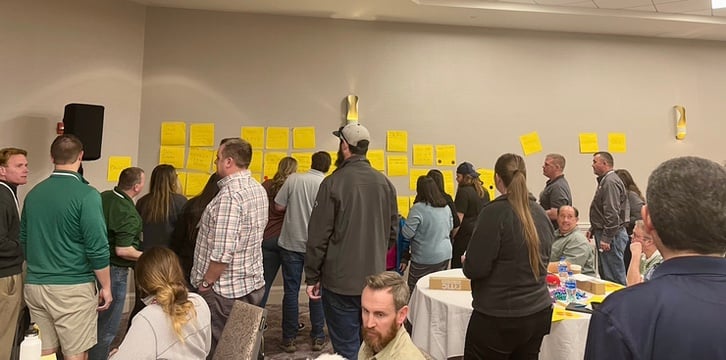 Lean Coffee Exercise
"I'm just so excited to be back to work with all of these new ideas," continues Gillenwater. "There were so many great takeaways from the entire event."
Making Meaningful Connections
Of course, one of the best aspects of any conference is the opportunity to form meaningful connections with industry peers. There were plenty of these opportunities at iCollaborate.
Gillenwater says that she found networking to be part of an overall positive experience.
"This was my first work conference; I loved interacting with landscaping companies from different parts of the country. The camaraderie was phenomenal. Everyone wanted to help each other. I handed out so many business cards—and came home many more. It was very educational to see how other companies are using Asset to its full potential."
Nanette Seven of Include Software says that the networking at iCollaborate was electric. Everyone was excited to be together and enjoyed one another's company while actively learning.
"We had great feedback from this year's event that has us excited about next year," says Seven. "Everyone shared in the excitement as we unveiled Include Cloud, our web-based software application, and came back with many applicable ideas to apply in their businesses."
Seven says next year's event is already in the works and will be from February 22 to 24, 2023, in Fort Lauderdale, Florida.
"We'll have McFarlin Stanford back helping facilitate the event, and we'll have plenty of exciting educational opportunities and activities planned," Seven says. "It will be three days that you don't want to miss!"