Case Study:
McHale Landscape Streamlines Payroll and Improves Operational Efficiency
Location
Upper Marlboro, Maryland
Locations Using Asset
Multiple
Segments
Landscape Design & Installation, Landscape Maintenance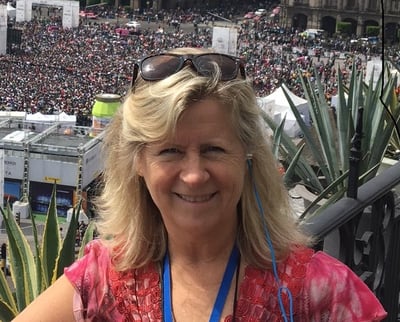 Brothers Stephen and Kevin McHale, owners of McHale Landscape Design, headquartered in Upper Marlboro, Maryland, were early adopters of software, says Julie McHale, Controller for the $20 million full-service landscape and maintenance company.
In fact, they were early adopters of technology in general. The company got its start in 1981 and introduced computers almost immediately—at a time when most businesses were still keeping all paper records.
In those early days, Julie (who is the wife to Stephen and sister-in-law to Kevin) says that the company got by with Peachtree Accounting Software (which is now Sage 50). Julie says that they knew early on that using software could be a game changer for their company.
A Payroll Transformation
Of course, it was important that their landscaping company not become stagnant and keep up with the times. While accounting software alone was sufficient for a long time, McHale ultimately introduced a more comprehensive software program that had been designed for the construction industry. The trouble was, says Julie, it was "not set up for inventory that can grow and die."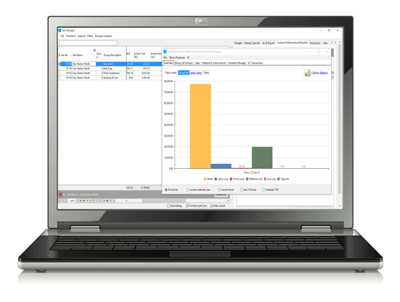 "We used it to do our payroll on a spreadsheet in Excel but it was very cumbersome," she says. "If a crew worker had worked 50 hours, we didn't want to charge just one job with overtime so we had to split it. We had to re-enter the data and then split up the overtime and spread it across all of the jobs—and then we had to re-enter those jobs in the system. It just wasn't efficient."
When Julie says that they talked to Include Software about their landscape business software, the time savings for Asset's payroll capabilities was a selling point in and of itself. But the fact that Asset is also industry-specific made it a no-brainer.
"With a landscaping payroll program that does it all—including the fact that you just push a button and calculate overtime—that freed up half of our payroll person's time, which was huge for us," Julie says. "We have one person who handles payroll. With 230 employees, this made a tremendous difference for her. For instance, there are shortcuts that she can take so that she only has to enter data one time for a crew, not each person individually. That's a big time savings for her and frees up her time to do other important tasks."
Up Next: Implementation for Design/Build
Though the company started off with payroll being the primary function, they quickly transitioned the maintenance division of their company into using it all. Everything from sales and estimating to job costing has been incredibly valuable. They've been using the product for maintenance since 2008 and Julie says their next step is to convert the design/build portion of their business to the software—something they had not yet done.
"We see the value in it, and we are in the process of starting that project," Julie adds, noting that for a massive company like McHale, it's no small undertaking. Even so, they know it's worth it, having seen what the landscape business management software has been able to do for their maintenance division.
She admits there is a learning curve but says that it's necessary, adding that today's younger generation of employees almost expects that a large company has fully automated itself as much as possible using software.
"The learning curve isn't the same for the younger generation of employees who understand the program easily because they're used to dealing with software," she says.
Many Benefits Now and Into the Future
Julie says that she foresees great benefits once the design/build division has fully adopted Asset as they're already experiencing them on the landscape maintenance side.
"To be able to know how many hours they're doing relative to what they budgeted will be so incredibly helpful to that division," she says. "That feedback is really hard to get without software and it's helped us tremendously on the maintenance side. Right now they're trying to track that all on their own and it's nearly impossible. When they're able to just go into the system and look it up, that will be a game changer."
Julie says that the company has relied on Include Software for advice and feedback over the years and as a result, have gotten suggestions for better practices. For example, Julie says that Include suggested that they include all components of a contract in the system so that they'd be able to track each component. McHale began doing that 5 years ago and Julie says it's been very helpful to have that data.
"You can separate the tasks under each contract so that they can be tracked individually," she says. "We can see how we're doing just on lawn mowing, for example. That really helps us make important decisions."
Another huge benefit has been the schedule manager, through which the company does all of its landscape maintenance scheduling. Julie says it's a big time saver from a time card manager, which is still being used on the design/build side. In schedule manager, Julie says you can fully enter one time for a crew instead of keying in data for every individual employee.
"That's another big time saver and very straightforward," Julie adds.
Another thing that the company likes is "dispatch billing." With a feature called "batch billing" on Asset, you can create a batch of invoices that are all being billed the same way (as often happens with maintenance).
"We can create 80 invoices in a single batch, review them all, post them, and mail them," Julie says. "It's so much faster. Each person does not have to be billed individually each month. While this isn't an aspect of the program we would use for design/build, in which jobs are so customized, for our uniform services this is a really helpful tool."
Take a Helping Hand
McHale has been a landscape company that has embraced software from day one of business—and relied on it for growth. Julie says they've learned a lot over the years and would offer this piece of advice: "Trust the people that are offering you help because they know how the system works."
She also says that she's amazed when she talks to other companies that have Asset but use so few of its capabilities—especially payroll. Because of Asset, Julie says they are able to handle payroll 100-percent in-house.
"Don't be afraid to ask for help and make sure you listen to the advice being offered," she suggests. "There are so many great things that this product can do but you have to be willing to put in the time and effort to implement it."
Want to learn whether Asset might be the right tool for your landscaping business? Let's explore and see what Asset can do for you.
Image Sources: McHale Landscape Design
Landscape Business Software Buyer's Guide
Your Next Step Towards Profitability & Efficiency
Find out how landscaping business software can help your company