Case Study:
Landscape Business Software Tips From Mariani Landscape
Location
Lake Bluff, IL, Westmont, IL & Lake Forest, IL
Locations Using Asset
Multiple Locations
Segments
Landscape Design & Installation, Residential Landscape Maintenance, Commercial Landscape Maintenance
Using landscape business software can help landscape companies track data in a way that allows them to make important real-time decisions. That higher level understanding of their operations—such as the knowledge as to which accounts are earning the most—can help drive smarter business. And for most companies, that's more than enough.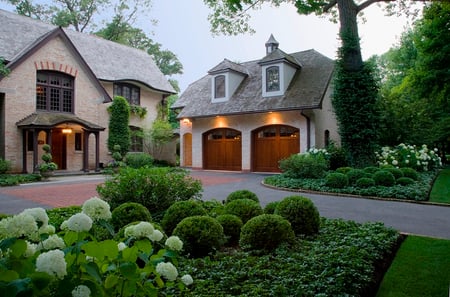 But for Illinois-based Mariani Landscape, the largest privately owned residential landscape company in the United States, unique operations call for a unique use of landscape business software. It's why the company employs a full-time IT expert—Mike Mendez—who was previously a software developer. Now, as Mariani's Senior Systems Architect, he wears many hats within the company, one of which is the extrapolation and manipulation of data being run through Asset.
Mendez says that the company has a partnership with Include Software that has allowed Mariani to use Asset, and the data, to take that data to a whole new level.
"We're able to do a level of analysis that most organizations don't want or even need due to our large size," says Mendez of the company, which has 6 offices and a projected revenue of $48 Million for 2018. "One of the reasons for that is the fact that we often get some odd data mining requests. Instead of going to Include Software each time I have one of these requests, with their permission, I'm able to export the data myself and make even better use of the software for our purposes. I recognize this is something most companies would never need to do, but for us, it's been a great partnership."
A Great Working Relationship
For Include Software, the relationship with Mariani Landscape has been a beneficial partnership as well, says Nanette Seven.
"Over the years, understanding what Mariani's needs have been and how Mike has been able to use the data to meet them has allowed us to build Asset into an even stronger product," says Seven.
Mendez says that one of the big differences in how Mariani is looking at data versus how other landscaping companies may be is that they take things to the "micro level" even though they are an industry giant. They're digging deeper, looking at the smallest details of individual contracts and data—not only the big picture. Mendez says this is a "matter of scale."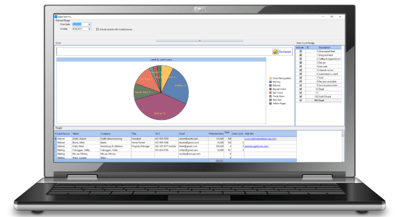 "As we've gotten larger, it would be easy to take the macro approach and see that at a high level, things look good—and leave it at that," he says. "But when you take the deep dive and look at the details, you can see there is always room for improvement, even for a large company likes ours that is doing well. In addition, because of scale, we have several levels of management all looking at a job, and depending on their role, what they want to look at can change. Everyone wants different details but Asset allows for that data mining."
Mendez says that he often tells companies who are considering Asset that if a huge company like Mariani can use it to scale down to micro-data, then it would absolutely serve their needs at any level.
"I would imagine most companies don't even need to take the data to the micro scale that we do, but just knowing that they could—that is, what the product is capable of—should give them the confidence that it will meet their needs," he says. "Being able to do that at the size that we are says a lot."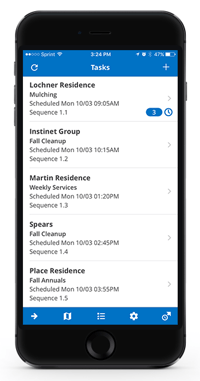 Actually, Mendez can make those observations on a regular basis as landscape company visits to the Mariani headquarters are quite common. When companies come to visit, they often have landscape business software questions such as how Mariani is able to use Asset to its full potential as well as how they implemented iCREWtek, the mobile app companion to Asset.
"Mariani is supportive of helping the Green Industry in many ways," says Seven. "They often have companies out to tour their headquarters and it's common that questions about Asset and iCREWtek come up."
In fact, Mendez says a company from Texas had just visited with 16 of their key team members. He was able to answer all of their questions relating to Asset. One thing that he says he's often asked about is getting iCREWtek up and running.
"I think that when they come out and see that we have it running smoothly with as many crews as we do, it gives them a comfort level that they can do it, too," he says. "If we can get it set up with almost 120 crews, then it can easily be done with 20 crews."
Mendez says that he also talks to quite a few companies who are only using bits and pieces of Asset—something that he says is a detriment to the user.
"A lot of times the questions are just about using the product to the fullest," Mendez says. "I'm often shocked how many companies are not utilizing every single aspect of the product. They'll tell me that they're still using Excel or Word to create a proposal and then they add it back into Asset. But that's just extra work. So many companies are not using all of the modules to the fullest so they're not reaping the full benefits."
Getting Over the Fears
Mendez says that he understands technology can be intimidating. He's seen so many companies who don't take the leap because of that fear.
"Going from a world where you use whiteboards and Excel to one where you're doing everything with technology is a scary change," Mendez says. "But you have to focus on the long-term benefits."
For those considering Asset but afraid to take the plunge, he offers the following tips to help the process go more smoothly.
Set it Up Properly: It's the "garbage in, garbage out" mentality, says Mendez. In other words, if you don't already have good processes in place, you need to change that before you start inputting data into Asset. This would be true for Asset or any other software product. If you already have good business practices in place, landscape business software will make you better. If you don't, applying technology to your problems is not going to fix them, it's likely going to make them more apparent.


Become Familiar with the Software: Take advantage of all the training Include Software can offer you, says Mendez. Whether it's videos, webinars, or a phone conference, there are training tools out there and you should plan to use them.


Know When You Need Help: To piggyback off that last point, it's also important to recognize when you need help, Mendez adds. While he says that anyone can easily be walked through an Asset update (even someone without a lot of technology experience), you're probably going to need help when it comes to implementing the software from scratch. That could mean hiring an IT person or at the very least having an existing team member spearhead the process.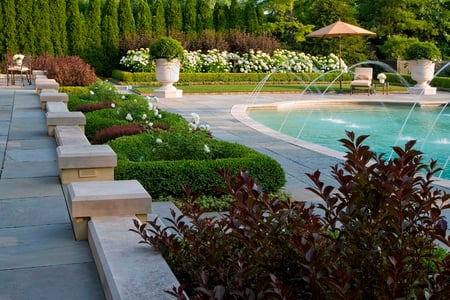 In the end, Mendez says that taking that leap can make a big difference in the overall success of your operations.
"I've looked at what else is out there and while the competing software might work for a small company, like the small mow-and-blow operations, I would argue the other options on the market simply are not robust enough for your average landscape company," he says.
Mendez leaves this piece of parting wisdom: If Asset is robust enough to work for a company as large and complex as Mariani, then you can absolutely make it work for you. That should inspire confidence that you won't need to worry about switching programs to scale to your future growth. As your company grows, Asset will grow with you.
Want to learn more about how Asset can grow with your growing landscaping business? Getting started is easy! Let's chat for 15 minutes and see if Asset is the right for your landscaping company.
Image source: Mariani Landscape
Landscape Business Software Buyer's Guide
Your Next Step Towards Profitability & Efficiency
Find out how landscaping business software can help your company