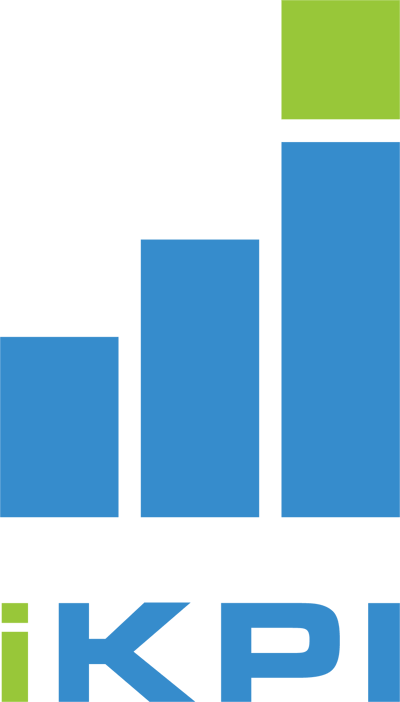 When it comes to collecting data, Asset landscaping business software is a class above. In fact, it collects so much data that you might not even know what to do with it all. If you were to take all of the raw data that Asset has collected for your business, it would seemingly go on forever. While this is incredibly helpful for your business, you likely also want a way to analyze that data more easily and turn it into something actionable.
So, how do you take all of that great data the software has collected and process it in a way that is both understandable and actionable? While it's true that Asset can generate reports, we've found that our customers want something more. They're looking for an analysis tool that will give them even more insight into what their data means.
That's why we're introducing iKPI (Include Key Performance Indicator), a visual analysis tool that will help our users to derive all of that value that is tied up in their data and turn it into usable information. This rollout is part of a multi-year effort that's been underway as a direct result of our clients' requests and we're excited to tell you more about it.
iKPI, the Robust Analytics Tool for Landscaping Businesses
Business analytic tools are certainly nothing new and the concept is already out there. But because Asset has the richest data storage available and is so comprehensive in its nature, it required a robust tool to be able to fully analyze all of that data.
Other companies have dashboards but they are limited to production-only data or solely to an accounting program. However, iKPI is fusing together all of the data for every area where the product operates—CRM, accounting, production, sales, and more. It can help provide you with analyzed data regarding your current real-time budget versus your actual budget. This allows you to make valuable decisions to keep your profitability on track.
In other words, it provides comprehensive insights that other products simply could not.
iKPI is Easy to Use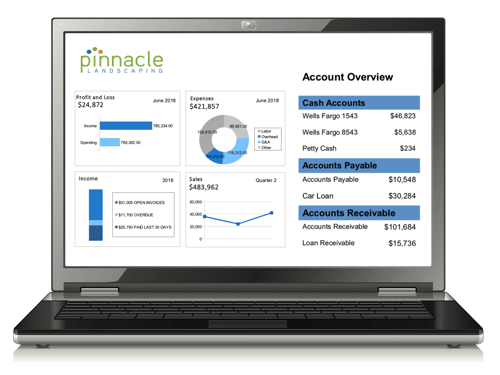 While there is a tremendous amount of information that can be analyzed, iKPI is simple in terms of its use. Despite the depth of the analytics, you can slice or dice your data in any way you'd like and it can help provide you with something visual regarding your current real-time budgeted versus actual data.
This will help you keep your projects and your company on track.
There is zero learning curve for this tool so there is no training required. Those who subscribe to iKPI to use with Asset only have to log in and you can see everything right in front of you. It does all the work of taking a mountain-load of data and processing it into something easy to see and utilize.
It's easy.
It's also accessible—no matter where you are. If you're out of the office, on a job site, or taking time off and you want to check something about your data, you can do it from wherever you are—on a desktop, laptop, phone, or any other mobile device. It's really that simple.
iKPI is Green Industry-Focused
Because iKPI works directly with Asset, it means you're not trying to take a data analytics tool developed for any old business and make it work for the landscape industry. At Include Software, the landscape and snow industry is what we're all about.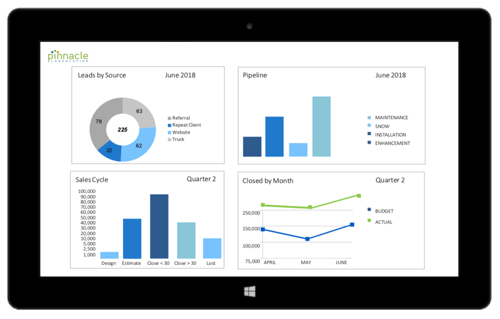 When using iKPI, different people in different roles at your landscape company will see different screens. If you're a salesperson, you're going to see a sales breakdown as soon as you log into iKPI. This will allow you to get a pulse on how your sales numbers are performing, where various projects stand, or how efficient your crews are being—all without having to search for additional information or put together a report. It's right in front of you on your screen.
If you're a production manager, you're going to see a production analysis. You'll be able to see budgeted hours used on a job, daily efficiencies of your crews based upon the type of work performed, and whether or not you're over budget, under budget, or on par. You'll also be able to drill into the specifics of what tasks or phases are causing you to be anywhere but on budget.
You can also look at financials with visual ease. You'll be able to see a graph of how much cash is on hand and where your receivables stand as well as other vital financial information available in real time. This will allow you to make real-time decisions and keep the project moving forward in a profitable way.
As an owner, you'll be able to see what projects are bringing in the most profit including what profit centers or divisions are performing and which are underperforming. This all comes without having to create a spreadsheet or take a lot of time to figure it all out. It's all right there on your dashboard.
The data is also interactive. You can click on it and dive deeper if you want.
iKPI Saves Time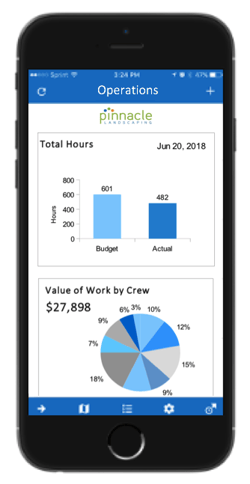 No matter what department you're using it for, iKPI is going to simplify your life by providing you with a visual analysis of important data that you need. This gives your people executive decision-making capabilities so that they can keep their department running smoothly. There are no excuses for hold-ups. You don't have to run reports or print out a bunch of numbers. It's all right there, allowing you and your team to make data-based decisions on the spot.
If you look at what a salesperson would normally have to do to figure out how they're doing up to the very minute, they'd have to go run a report, then extract data they care about from the report, and possibly even develop a spreadsheet from that data. It's a lot of work. Now all they have to do is open the product and it's right there in front of them—in real time.
With iKPI, You'll Provide Better Support for Your Whole Team
At the end of the day, what you really want is a landscaping business that runs smoothly with decisions being made on hard data—not gut feelings. While Asset already allows you to collect more data than you were ever capable of ever before, with the addition of iKPI, you'll also now be able to be even more effective with that data. That will allow you to provide the best support to your entire team. It will also give you the capability to make better decisions for your clients. Put simply—it's a win for everyone.
If you're ready to see how landscape business software can help transform your landscape company, then let's explore and see what our products can do for you. And if you're an Asset user, feel free to contact us to learn more about integrating iKPI into your company.