When it comes to profitability, efficiency is everything. That may be why you're using (or considering) landscape business software. There's no doubt that implementing software can make your company (and its daily operations) run smoother.
However, we understand that many of our customers get really busy and don't always have time to stay on top of what's new with our software product, Asset.
Because we want our users to truly get the most out of our product (for maximum time-saving abilities), we've rounded up a list of 4 exciting updates that you might want to take advantage of.
1. Route Optimization
Scheduling jobs is undoubtedly a vital aspect of your operations. Of course, you already know it's not just which jobs that need to get completed that day but also the order in which they are completed that matters. In the past, when using Asset's scheduling product, you had to set the order of your jobs manually.
However, that's all changing.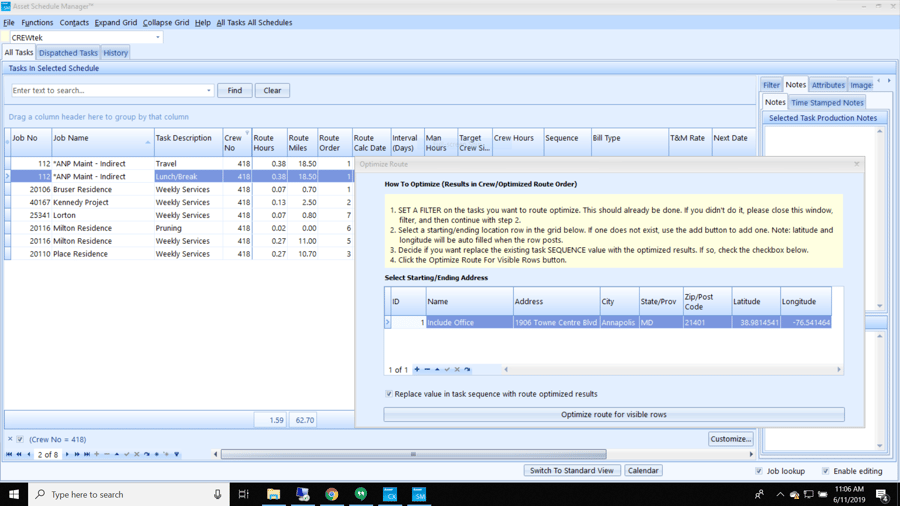 Beginning in July (2019) route optimization from Google will be built into Asset making for a seamless processing experience. You can enter your service addresses and it will optimize them in the best possible order, boosting your efficiency. It will also figure out the travel time between each stop so that you can truly maximize your day.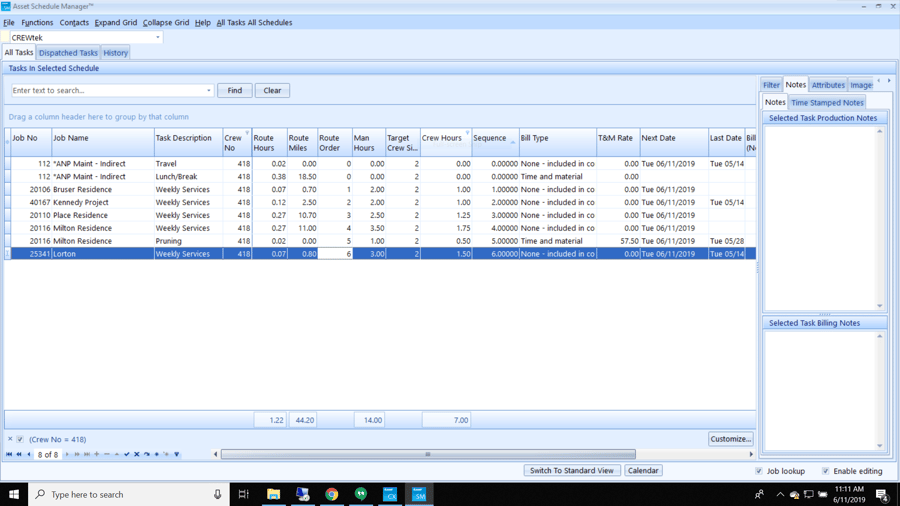 The streamlined processing continues as that information can then be automatically sent to iCREWtek devices, Asset's mobile companion, and show up in the necessary order. It can even provide directions if they're needed.
2. Batch/Mass Credit Card Processing
The financial capabilities of Asset are robust in that the product can handle all financial needs for a company including payment processing, billing, cash receipts, payroll, and more.
One relatively new aspect of these financial capabilities is Asset's ability to perform mass credit card processing—or "batch" processing. This can go a long way in boosting efficiency. Say you have 5,000 route customers that need to be billed the same way. In the past, you had to key in credit card information manually. If it takes around 20 seconds to key in one customer's information, that might not sound like a big deal. But 20 seconds times 5,000 customers is nearly 28 hours spent billing clients.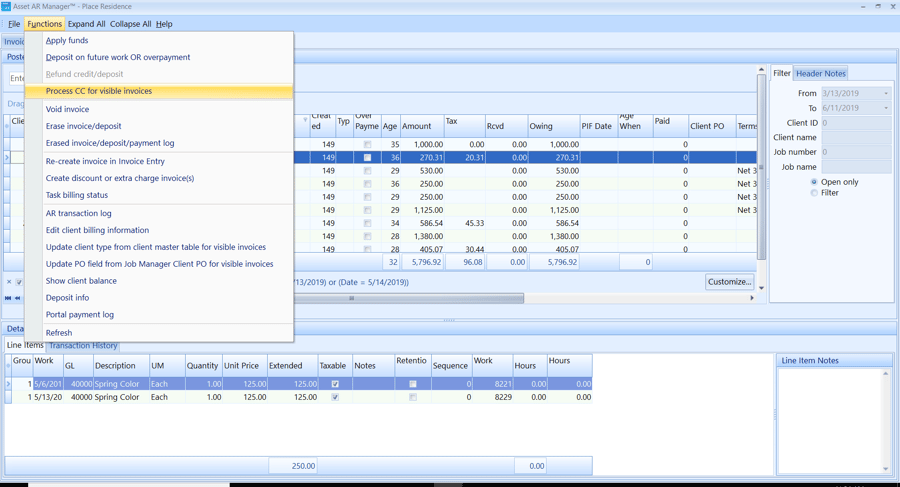 Your time is precious and you want to use it as wisely as possible. By using mass credit card processing you can free up valuable time.
3. Proposal Manager Deep Archive
Another capability of Asset that we want to make sure our customers are taking advantage of is its deep archive capabilities. This is most useful to Asset users who have been utilizing the system for a long period. We have quite a few clients who have been with Asset and using its estimating tool for 20+ years. In that time, they may have created hundreds of thousands of estimates. We don't delete that information because we know that there could come a time when the company wants to reference it. However, we have found that in some cases, having such an extensive archive of estimates has created performance issues.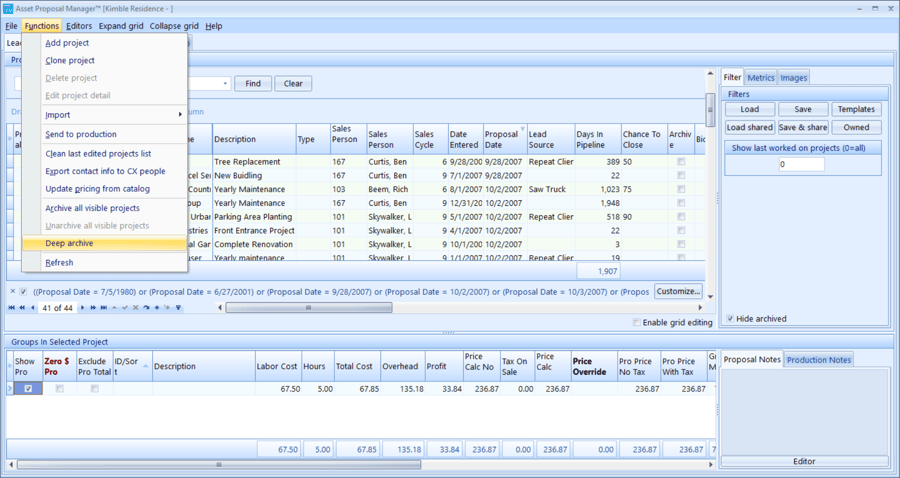 For that reason, we have created a "second layer of archiving," or a deep archive, in which we can store old estimates but not allow them to get in the way of day-to-day processing needs. That means you can go fetch an old estimate if it's needed (and do so easily), but it's not slowing down your normal routine.
This is powerful and new—and it can be a big time-saving feature—but a lot of users aren't aware of it yet. If you've been a long-time customer who has a large number of estimates in the system, then this feature could help you operate Asset more efficiently.
4. Easier Navigation
Finally, we also wanted to tell our users about a change to the way that you can navigate the system. At Include Software, we are always looking for ways that we can make Asset more user-friendly. This includes making things easier to find and simplifying our interface.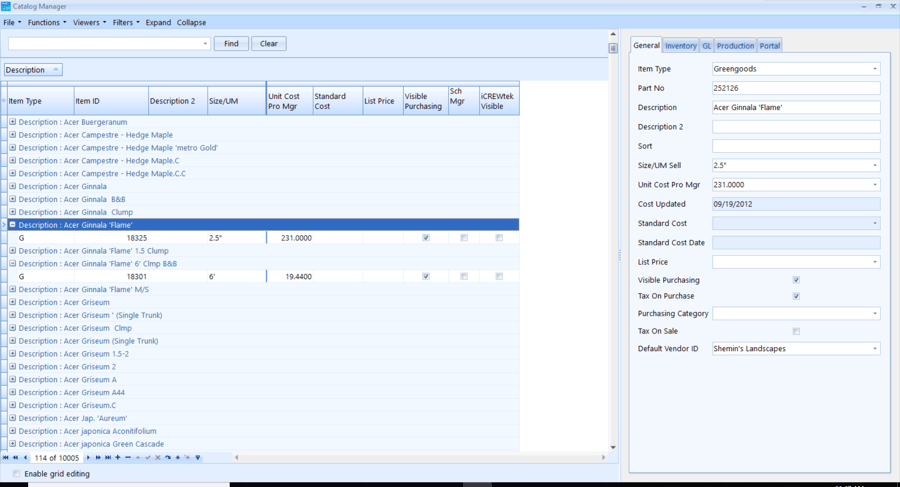 If you're already an Asset user then you know that our system has a lot of grids (like spreadsheets) and these can have quite a few columns. Say you wanted to see the cost column and that is two-thirds of the way down a big list—it could be time-consuming to scroll through.
However, in the newly designed grids, there is an alphabetized list option that may make it faster to find what you're looking for. This is a simple update but one that can make a big difference when it comes to navigation. You can go to columns and choose the option that says "sorted" in order to take advantage of this.
Taking Full Advantage of Landscape Business Software
Though some of these changes may seem small, they all have a common thread and that's the fact that they make business easier. They can all save you time and that's what we're all about. We are always looking at improving Asset so that we can make things better for you.
We want you to truly get the most out of our software and use it to its fullest. If you're only using parts of the software, then you may be missing out on some important time-saving abilities. We believe you deserve to get the most out of this product which is why we want to help. You can always count on us for support when you need it.
In addition, you can also count on us to continue looking for ways that we can improve. We're always looking to be more efficient and more helpful for you.
If you are an Asset user and have questions or are looking for additional support, we are always available to you. Not already an Asset user and ready to get started? Let's explore and see what Asset can do for your landscaping company.
Watch This Video to Learn How Landscaping Software Can Improve Your Company's Success