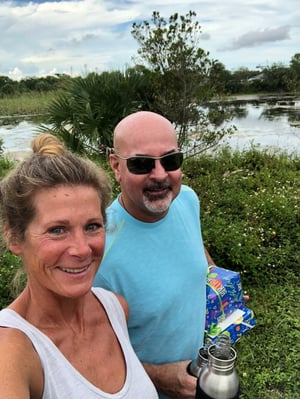 Amy Foley got her first experience with Include Software as a user. Having worked for a Chicago-based landscape company for 14 years, she was a leader in that company's implementation of Asset, their landscape business software. Upon leaving that position and moving to South Florida with her husband, it was serendipitous—and exciting—to ultimately land a position with the software company she had loved so much as one of their clients.
"If I'm being honest, it's hard not to make it sound like I'm doing a commercial for the company when I talk about it," Amy laughs. "I was a big fan and couldn't say enough good things about Asset when I was a user and now working for the company, I have even more great stuff to say."
As a user at a landscape company, Amy was in an administrator role and had access to all of the modules. She did payroll and taxes but she also helped to set up other custom templates and says she really touched upon all of the different areas of the product. That has helped her to know the system as a whole.
Even so, Amy says that learning the software as a trainer—which is one of the roles she will have at Include—has been a bit different. It requires her to go beyond the default of just knowing how to do something and really understand it in a way that she can explain to others.
A Multi-Purpose Role
"I'm currently in the process of learning Asset from a trainer's perspective as opposed to a user's one," Amy says. "I had gotten to the point where I just knew what to do with Asset and now I'm really learning the 'why' behind doing things a certain way so that I can teach it to people within a landscaping company. I've been sitting in on some of the training sessions for new clients and it's fascinating because I can clearly remember being on the other end of those calls. My team member, Wendy Klotz, was the one to take me through our training and now that I'm shadowing her, I'm learning so much."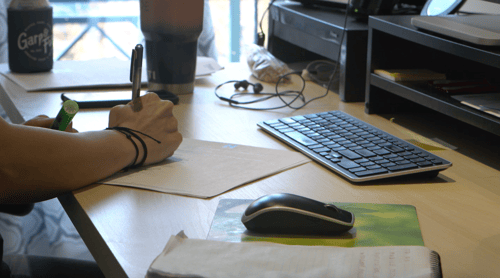 Amy is also assisting on the technical end with "help" tickets. She says that's something she thoroughly enjoys.
"I'm a problem solver so I really enjoy the ticket work," Amy says. "When I figure out an answer and can tell the client what to do to solve their problem, it feels really good. I love getting that email back that says, 'It works!' I'm not sure who's more excited—them or me!"
In terms of what other responsibilities that Amy will hold, she says she expects it will be a "little bit of everything."
"It's not really a defined role and that just seems to be the way it is here—everyone pitches in and helps out where it's needed," Amy says. "That's one of the things I really like about it. It's truly a team atmosphere. It's part of their culture."
A Team Environment
In fact, Amy says that part of her interview process involved meeting the Include Software team. She was impressed by how much that group experience mattered to management.
"I finished my interview with Nanette and Bill but at the end of the conversation was asked about meeting the team," Amy recalls. "They explained that it is such a cohesive working environment here that anyone they were to bring in had to be able to fit seamlessly into the positive culture."
Amy says she remembers thinking, "that's nice," but didn't fully grasp what they meant until she "saw it in action."
"I felt like, 'I get it now,'" Amy says upon meeting the team. "They really do have such a great rhythm. It's just a great environment to work in with great people."
Plenty of Time for Fun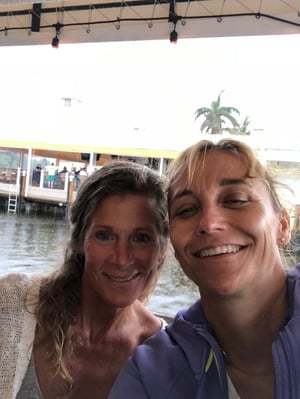 Outside of work, Amy says that she enjoys spending time with her family. She has 3 grown daughters, 2 of which stayed in Chicago and one that lives in Cleveland. Amy and her husband also enjoy spending time with their Golden Retriever, Hawkeye. Since moving to Florida, Amy says that she is soaking up as much sun as she can get.
"My husband is in the hotel industry and we lived in South Florida previously," Amy says. "We always hoped to get back. Truth be told, we're not fans of winter and working for a company that provided snow removal sucked every ounce of winter joy out of my soul. We're beach and water people and we're so happy to be back in this area."
Amy is also grateful to work for a company that values her work/life balance and that allows her ample time to pursue her passions. Since moving back to Florida, she has taken up stained glass making, a hobby she had always been interested in. And she's even thinking about getting back into playing soccer, a recreational sport she was previously active in.
A Place of Belonging
Between the excellent team atmosphere, the gratifying work, and the spare time to pursue passions and interests, Amy says she has found a "home" with Include Software.
"I just feel like all of the great things I suspected about Include are actually true, now that I'm seeing it with my own eyes,'" Amy says. "It might sound too good to be true from the outside, but I'm experiencing it all myself. It's a great place to work. I guess I am a bit of a walking/talking commercial for the company after all."
If you want to discover for yourself all of the great things that come with working at Include Software, then perhaps you'd like to learn more about a career here. We value our growing team and are always looking to add to our talented staff.
Or, if you're an Include Software client, and are filing a help ticket, you just may hear back from Amy who will be excited to help you solve your problems and continue to use Asset to the fullest.