As a landscaping operations manager, you have a tough job simply based upon how much you oversee. You are the one that keeps the day-to-day "show" running and there are certainly times when that can feel like a lot. So often, you are the liaison between the crews, the office staff, and sales. Plus, you need to make sure that everything is operating smoothly with the schedule.
Of course, you have daily metrics to guide you, and that can make a big difference. That is, assuming that you're looking at numbers in real-time. As operations manager, you need to keep your finger on the pulse of the business and keep everything going.
In terms of the day-to-day operations, the following daily metrics are going to be powerful when it comes to staying on top of where things stand.
1. Budgeted vs. Actual Hours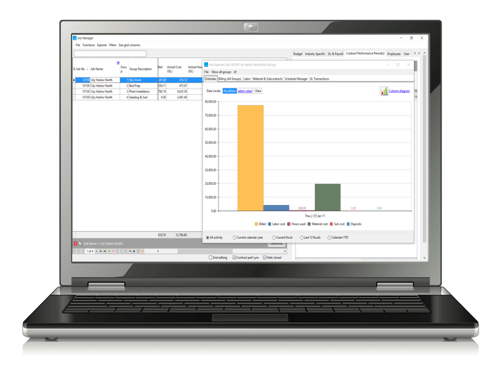 In keeping your finger on the pulse of how the company's jobs are performing, you'll need to keep close track of hours. But this is a task not easily performed in real-time without landscape business software. A lot of times landscaping companies look at this data after the fact and try to make improvements going forward.
But with software, you can look at those metrics in real time. Being able to see how jobs are performing on an ongoing basis can definitely help you to keep jobs on track, which is one of your most important tasks as landscaping operations manager. After all, it is directly linked to the company's profitability.
By closely tracking man hours you'll eliminate all of the guesswork associated with this process. This capability will allow you to know whether you're right on track, ahead of the game, or falling behind—and you can make adjustments to landscaping operations accordingly.
Of course, it's certainly fair to say that this tool will help you in the future, as well. Hours forecasting is likely another task amongst the landscaping operations tasks that fall in your hands. But with closely tracked man hours, you'll be able to forecast future hours based on the type of work you're doing. In other words, you'll have a really accurate idea of exactly how much time each specific task takes your crews. As a result, you can ensure that your sales team is producing incredibly accurate proposals with budgeted hours being right in line with actual hours.
It's almost like having a crystal ball!
As you become increasingly more accurate with your hours, you'll see profitability rise as a result—all because you were keeping a close eye on the metrics.
2. Tracking Material
Keeping track of material is an enormous task in and of itself—and it falls on your shoulders. You not only need to make sure that you have enough material in the yard for upcoming jobs but that each currently-in-progress job also has any and all materials it may need.
If you've tried to do this with spreadsheets and whiteboards then you recognize there are flaws with that method. For one, there is a significant issue with "real-time changes."
But landscape inventory management software makes these metrics more manageable. Since the crews are logging in the materials they've used on work sites, you'll know what materials are in stock and which ones need to be reordered for new work. You can also place any new orders right through the software and have them drop-shipped to the job site or to your yard.
It's also useful that you can work with preferred vendors. Most likely you have a vendor that you always purchase materials from. With software, suppliers can provide you with the availability of their landscape materials, which you can import into the catalog manager feature. This is going to help keep your list of available materials current from your preferred vendor helping ease the tracking process for you.
3. Real-Time Job Overview Data
Though not necessarily a "metric," another really important aspect of monitoring daily jobs is simply being able to oversee how they're doing while you're back in the office taking care of everything there. With software, you have the ability to know where your crews are working each day and when they're on the job. It's like being there in person, even when you can't be.
This means that crews are held accountable to stay on the job until their work is finished. With mobile time reporting technology, you can also keep track of employee hours with no more annoying time cards. In fact, you can even track your drivers' time from the yard to their job sites. You have a much better idea of exactly what's going on even when you can't have eyes on everyone.
In keeping up with each job, this makes everything a lot more manageable. In the past, it might have felt like almost too much for one person, but with software assisting you, it's possible to oversee all jobs at once. Plus, you can see changes in work orders in real time. And you have the ability to see any warranty orders or new service requests that come in.
With all of this data, you can really master landscaping operations and come out looking like a star. You're handling it all and you're handling it well!
Other Ways that Software Can Assist With Landscaping Operations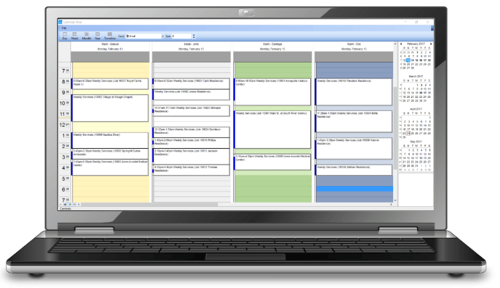 Of course, beyond helping you keep up with these metrics (and making them manageable for you to utilize to your advantage), software can help you in so many other areas, as well. As landscaping operations manager, you need software that can do a lot. It needs to not only handle the tasks we've talked about above but also allow you to streamline scheduling, another one of your biggest tasks.
Scheduling landscape work can be tedious and time-consuming if it's not done well. If you've used spreadsheets and white boards to create routes in the past then you already know there is a better way. This is another area where leaning on software can help you get your job done well.
Since you're likely a liaison amongst the company's other divisions, and it's your job to keep everything running smoothly, you'll also appreciate that software can help streamline everything.
For instance, you'll get work orders from sales as soon as they are marked sold in the system. That work order will include all information, including copies of the design, site plan, and site map. You'll now be able to see if you have exactly the right amount of landscaping material for the job by using your inventory tracking tools.
Basically, it can help you do it all and not become completely stressed out in the process.
Making Your Job Easier
Whether you're looking to analyze metrics and make better decisions or you just want to simplify scheduling, you're just looking to make your jam-packed day easier and software can do that. As landscaping operations manager, you need to have a system that streamlines work orders, scheduling, crews' activity, hours, materials, and so much more.
That's a tall order.
But the right software system can help you have it all. Of course, it must be a robust system in order to be able to handle all of these capabilities.
Asset is that software system. It can streamline all of these processes, control work orders, help you effective manager your crews, keep track of all of your inventory, and so much more. In the end, that will make your job easier while also making the company more profitable. It's a win all around.
If you're ready to see how landscaping operations software can help you stay on top of daily operations, let's explore and see what our products can do for you.
Watch this Video to Learn How Landscaping Software Can Simplify Operations Management