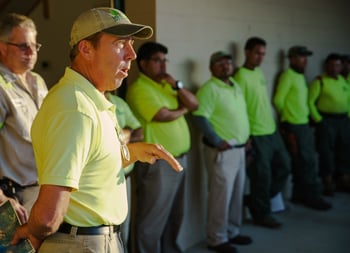 As an owner or operations manager for a landscaping company, you have a tough job. You need to keep a lot balls in the air—juggling schedules, communicating with sales and the office staff, managing labor crews, and making sure the right equipment and plant materials are there for each job.
Things change quickly in your landscaping company. First, work orders change―and you're the last one to find out because the paperwork didn't get to you in time.
Next, you need to constantly change job information on the master whiteboard. And it can get so chaotic with moving crews around and optimizing routes that the whiteboard doesn't even make sense anymore.
You need a better method. Landscape business scheduling software allows you to organize your crews, see changes in work orders, map routes together and to be completely organized.

You no longer need to chase down sales to get the work order. And you have the right amount of equipment and materials to get the project done on time and on budget.
In this article, you'll learn how your biggest organizational headaches can become a thing of the past with landscaping business software.
How
Landscaping Operations Software
Puts It All in One Place
When your company integrates landscaping business software, your job becomes much easier right away. This integrated system will provide all job site information in one place—starting with the work order generated by sales.
12 Meaningful Benefits of Landscaping Operations Software
Sales prepares the estimate

: Including client information, materials and equipment needed, budgeted time in real time. You no longer need to wait on sales or an administrative staffer to put all of that information in a Word document or an Excel spreadsheet. And there is no more lost data or lost drawings and plans.

You get the work order as soon as it's marked sold in the system

: Your work order includes all information, including copies of the designs, site plan and site map. You'll be able to see if you have the right amount of plant materials needed for the job.

You can compare prices between vendors

: This

landscaping operations software

allows you to compare prices between vendors and order your materials from the one with the best prices. This not only helps your company save money, but you can transfer that savings to your client too.

You can schedule crews more efficiently

: For example, if you need to pull some laborers off of one job to get the spring rush jobs finished, you can now make those changes right on the software. You can view job progress and timelines as well as see where crew members are located. Then you can move laborers, if needed, from one job to the next. And if one crew finishes a job earlier than expected, you can direct that crew to another job in progress to help get it done faster.

You can pinpoint where your maintenance, installation and snow crews are located using the software's scheduling feature

: The scheduling feature on the

landscape operations software

allows you to know where your crews are in real time as well as to better organize their daily schedules. You can assign work crews by zip code, by street address or by property location to make the teams work more efficiently in the field.

You can stay on budget

: Crews are capturing their daily work hours in real time—no more waiting until they get back to the office to clock out or make guesses to the amount of time spent at the work site. You can use that information to see if each project is on budget and on schedule. The materials used for a project is now expensed to the job. You'll also know right away if there were any changes to the materials per day and per week.

You can better manage inventory

:

Since the crews are logging in the materials they've used on work sites, you'll know what materials are in stock and which ones need to be reordered for the new work. You can place any new orders right in it and have it drop-shipped to the job site or to the yard.

You can assign specific equipment to a crew

: Plus, you'll be able to see what pieces of equipment are being used at each work site—so you know if you need to lease any extra equipment for a particular job.

You have the ability to know where your crews are working that day and when they're on the job

: Crews are held accountable to stay on the job until their workday is finished. Time cards are no longer lost. Plus, your crews are no longer forgetting to write down information during the day while they're working. Instead, they just add that information onto the software's app---all of the information is recorded on site. There will also be no more incorrect guessing or estimating at the end of the day.

You can see changes in work orders in real time

: You also have the ability to see any warranty orders and new service requests. You can forecast labor needs and requirements for every work order change.

You can track the driver's time from the yard to the job site

: Workers are now being paid for their labor when they start at the job site rather than starting on the drive to the site.

You can now have multiple people from the same crew doing different jobs

: You can assign one laborer to prune, another to mow and the third one to weed. It helps you to track and organize the workers at one job site.
You'll Manage Your Department More Efficiently with
Landscape Operations Software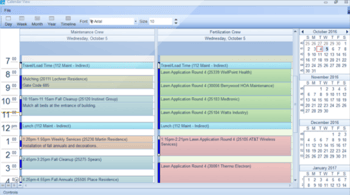 As the operations manager, you need to have a software system that streamlines the work orders, scheduling, crews at the job site, job costing, materials as well as a host of other duties.
Other landscaping companies have transitioned to a industry-specific software program that organizes all parts of a work order from the time it's sold to the time it's completed. In doing so, they found that they could address the issues that caused their company to lose money as well as see an increase in profits.
If you'd love to have your operations department work more efficiently, it's time that you implement a landscaping business software program designed to help operation managers streamline their processes, control work orders and effectively manage their crews.
If you're ready for more streamlined systems to make your job easier as the COO or operations manager, request your free demo from Include Software. Asset software along with the iCREWtek app synchronizes every moving part in your green service industry company. You can also call us at 800-475-0311.
Image Source: LevelGreen Landscaping