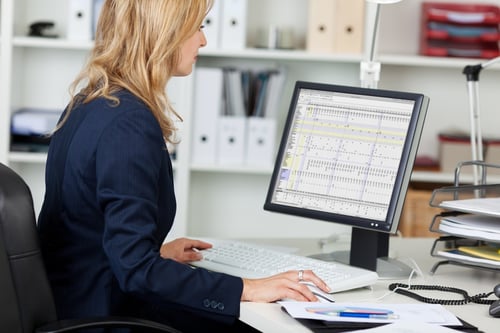 Monitoring your landscaping company's metrics is the way in which you keep your finger on the pulse of your business—and there's no denying how essential that is to be successful.
Numbers are such an important aspect of running a company and can literally make or break you. In fact, poor financials is one of the main reasons that businesses ultimately fail. Research indicates that of small businesses that failed, 82 percent failed because of cash flow problems.
The key to preventing problems such as this comes down to knowing your numbers. But which metrics matter most? What are the ones that you need to be looking at weekly?
We've rounded up a list of the most important metrics that every landscape business owner should be reviewing each week.
1. Accounts Receivable
Accounts receivable, or the money that is owed to you by customers, is a figure that you should be reviewing regularly. Remember, this is not money in the bank but rather money that is owed to your business.
The average number of days that it takes a client to pay you should be part of tracking accounts receivable metrics. This is important to stay on top of so that you can quickly recognize if a client has a pattern of not paying in a timely manner.
There's no question that this information is vital to a healthy business. In order to stay on top of cash flow (money coming in and out of the business), you absolutely must stay on top of your accounts receivable metrics.
In general, staying on top of accounts receivable allows you to perform smart cash management because you know exactly how much money is coming in. You should also stay on top of the timeline related to money owed.
There are many benefits to good cash management. You can better predict your cash flow and therefore make overall better business decisions. This also helps you stay on top of your pricing and ensure that your expenses are manageable. As a result, you can start better planning for your company's future.
2. Accounts Payable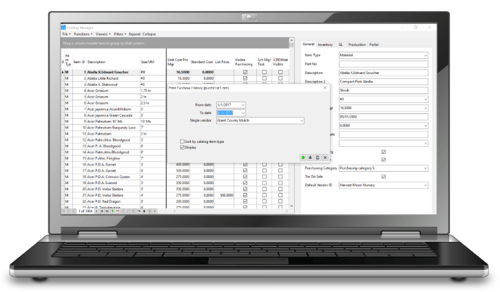 Another metric to review regularly is accounts payable, that is, the bills/vendors that you still have to pay. You might look at this as your company's "short-term debt," and it's important as it needs to be paid in a timely fashion in order to keep your business operating smoothly.
This metric is also important to track in terms of managing cash flow. You must be able to manage your debts effectively. If you do not stay on top of unpaid bills, it can lead to late fees or penalties—or in our industry, failed relationships, which can be much worse (and difficult to come back from). Of course, when you have a lot of vendors that you work with, things can slip through the cracks.
Using landscaping business accounting software that can automate these transactions in real-time allows for a quick compilation of important financial data and will help you prevent slip-ups such as missed payments.
3. Payroll
Staying on top of your payroll is another essential metric for the well-run and financially healthy business. Ideally, streamlining time tracking with a software system can ensure that this data is entered in real-time.
Being organized and timely with payroll is essential when it comes to keeping employees happy and reducing headaches but, again, is not easily performed without software to support you.
For many, using a payroll system that can keep the process running smoothly from time entry all the way through to paycheck processing can help eliminate the stress (and room for error) associated with these tasks. It's also another essential piece to your overall financial health. After all, in this industry, labor is our biggest cost. Remaining on top of what is owed for labor is important.
In addition, though you don't need to stay on top of this metric weekly, you should also be able to calculate your payroll tax liability with relative ease. Payroll tax liability is comprised of the social security tax, Medicare tax, and various income tax withholdings. The liability contains taxes that are paid by employees and taxes that are paid by the employer.
The employer withholds those taxes that are paid by employees, and remits them to the applicable government authorities, along with the taxes that are paid by the company.
That means the employer acts as an agent for the government, in that it collects payroll taxes from employees and remits them to the government. Again, this is not something that is easy to do with a simple accounting tool like QuickBooks. You need a more robust system to calculate these metrics.
4. Cash Flow Analysis
We already talked about cash flow as being the money going in and out of your business. Cash flow analysis is a metric that measures exactly how much cash is generated and spent. Since this is a tangible and quantifiable figure, it can really help you get a good understanding of how your business is faring.
When it comes to how your business is performing, a cash flow analysis can be an extremely "telling" set of numbers. Being able to look at it and make quick decisions can be vital to your company's financial health. But it's also not something that you can generate in real time with a less-advanced accounting tool such as QuickBooks.
One of the biggest mistakes that we hear landscape business owners make in regard to cash flow is when they say "my checkbook says I have money in it, so I must be okay." Or, "I've already paid everyone, so I must be okay."
But there is so much uncertainty in those statements. This is simply not a good way to gauge the health of your business as it fails to take into account the "complete picture." However, a cash flow analysis can provide you with that well-rounded and real-time view that you truly need.
Disregarding Metrics Puts You at Risk
There's no question that financials can be complex and confusing for a lot of landscape business owners. After all, if you're like most of your peers, your expertise and skills lie in landscaping, not the nuances of owning a business.
Even so, if you overlook your financials, even if you just temporarily let things slide, it can be catastrophic. The financials of your business provide a performance management tool that can help you make the right decisions. If you're not paying attention to them, how can you possibly know if you're making the right decisions for your business?
The truth is, if you don't understand these four metrics and other important financial data that your company is producing, you have no way of monitoring your company's ongoing health and that could put you at major risk. You could fall late on payments, incur penalties for tax filing mistakes, or overextend your business in a way that can seriously damage it.
Supporting Your Landscaping Company's Accounting Needs
Of course, we recognize that data collection and processing can be incredibly complicated. Unfortunately, a tool like QuickBooks is going to fall short of a lot of your needs, as we've mentioned above. What you really need is instant insight into each of your key metrics so that you can compare data and make quick decisions.
Only a robust and comprehensive software solution like Asset is going to be able to fully meet your financial analysis needs providing the real-time data (and data reports) that you need. The fact is, the wrong software system can really hold you back. But when it comes to something as important as your company's financial health, there's really no room for error. By choosing a software product that is capable of providing you the metrics that you need to continually evaluate, you'll be able to keep your business on track.
If you're ready to see how landscape business accounting software can help you keep a finger on the pulse of your company's health, let's explore and see what our products can do for you.
Watch this Video to Learn How Asset Can Improve the Accounting & Administration Tasks at Your Landscaping Company