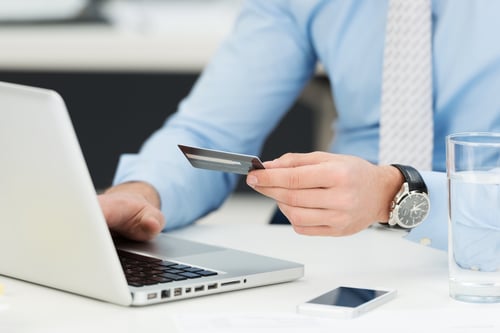 Getting paid is obviously a key part of doing business. But exactly how you get paid may be more of a point of confusion and concern than ever before. After all, if you've been in business for a long time then you may still be operating under the notion that payments are best made in the form of cash or check. However, both of these forms of payment are falling out of favor with many consumers who are using other ways to pay merchants and service providers in other areas of their daily life.
You might be wondering, is it time to explore new payment options for your landscaping business?
While there are certainly still plenty of landscape businesses that accept cash or checks, like most other industries, the movement has been toward credit cards and ACH (Automated Clearing House) payments. Given their continued popularity, let's explore both options and what you should know.
A Look at ACH Payments
Also referred to as "electronic checks," ACH began as a system to replace paper checks by allowing businesses to receive direct electronic payments from their clients' checking accounts by using the institution's routing number.
This type of payment works well for a recurring monthly payment fee and has already been actively used by service providers such as utility companies. ACH would work well for a recurring landscape maintenance account. In most cases, ACH is less expensive than credit card payments because it's able to bypass interchange and assessment fees as it does not involve card networks.
A Look at Credit Card Payments
In your everyday life and business, chances are that you use credit cards for the majority of your own purchases at your landscaping company. Your customers are no different when it comes to their personal preferences. In fact, research has indicated that more than 65 percent of customers prefer credit cards over other forms of payment. That number is only expected to rise as younger generations age.
On top of that, more consumers are starting to make specific requests to the companies they do business with that they expand their payment options.
A survey conducted by WePay found that 58 percent of small businesses are directly asked by their customers to accept credit cards. The same survey also found that 64 percent of people write fewer than three checks each month. With credit cards and online bill pay options available, the checkbook comes out less often than ever. Being a company that continues to expect check or cash may begin to frustrate your customers.
What Landscaping Customers Want
The payment options that you offer for your landscaping business are important to your customers and to you. Of course, your reasons will be different.
Most customers are likely looking for options. They don't want to be limited to just one way of paying. If they are, they might even consider taking their business elsewhere—somewhere that they would be able to pay the way they prefer.
Credit cards are particularly popular for customers because of the obvious benefits that they offer. For one, your client might not have the full $10,000 they need for that project all at once, but they know that by "charging it," they can pay for it over a period of time that is more reasonable for them.
People also love the tangible reward benefits offered by credit cards. They prefer to earn reward points that they can cash in for goods, flights, or vacations at later dates. Some credit cards even offer "cashback offers," such as 1% cashback on purchases.
What You Want for Your Landscaping Company
As a landscaping business owner, your payment option priorities are a bit different. You want to be able to be paid promptly and on time. But the last thing that you want is to be saddled with a bunch of extra charges and fees.
While accepting credit cards does come with a price, the fact is, opening your landscaping business up to more payment options also opens it up to a wider audience and can therefore lead to more sales. It also helps keep you competitive within the marketplace. If you have a potential client that intends to pay by credit card and they're comparing your landscape company to one that offers that payment option, you're most likely going to lose the sale.
Credit cards and ACH processing also benefits you with fast and efficient payments. These payments can be set up to be paid automatically meaning you won't have to spend time or resources hounding after late-paying clients. And even if clients aren't set up for autopay, many find it a lot easier to hop online and pay a bill than they do digging a check book out of a back drawer and mailing in a payment. On your end, this also decreases non-billable trips that you may have taken to stop by a client's house in-person for payment.
With a client portal, customers can take care of paying their bill any time—day or not—something that they'll view as a major convenience. But it's a win-win for everyone. The customer's account is automatically updated while the funds are automatically deposited into your company's bank account.
A Few Words of Wisdom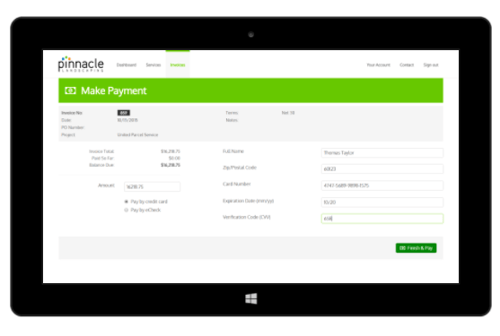 While you want to give your customers as much flexibility as possible in order to keep them happy, you still need to make wise choices for your landscaping business. That's why it's important to stay on top of what transaction fees you're experiencing and how they're impacting your business.
Be sure to regularly check your statements and review the percentages that you're being charged by processing companies and then check those against other providers. You may have gotten a certain rate when you initially signed up with them but it might have increased without you realizing it. Don't become complacent with those fees. Stay on top of it so that you can make sure you're not getting hit too hard.
Keep in mind that ACH processing is likely going to have the lowest fees associated with it. If you can find ways to encourage your clients to go this route, it will likely best best for your profitability. Make it simple for clients by setting up a client portal with ACH processing capabilities.
No matter what decisions you ultimately make, it will be important to weigh your company's needs with your customers' wants and come up with a reasonable balance that benefits everyone. Like so many other areas of business, it's finding that middle ground which will help keep your customers happy while also keeping your business profitable.
Are you ready to see how a customer portal could improve your payment options, and be one component of a complete landscape business management software? Let's explore and see what Asset can do for your landscaping company.
Watch this Video to Learn How Asset Can Improve the Accounting & Administration Tasks at Your Landscaping Company