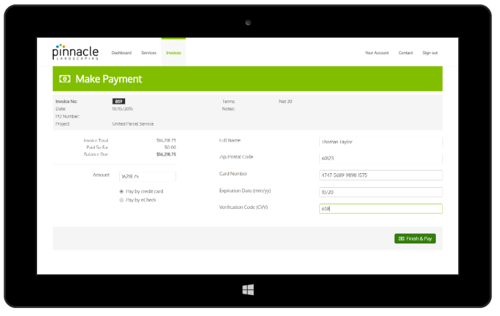 Getting paid in an efficient manner is important when it comes to maintaining a healthy cash flow at your landscaping business. After all, having multiple clients fall behind on payments can become quite detrimental when you have your own bills to pay.
We have heard from many landscape contractors that "getting paid quickly" is a point of contention. It's something that many of them have struggled with over the years. Of course, even outside of the landscape industry, this is a common problem.
In fact, a National Federation of Independent Business survey found that approximately 64 percent of the small businesses surveyed reported having clients who did not pay invoices for at least 60 days.
So, how can you get your landscaping customers to pay faster?
While there is not necessarily a surefire solution that is going to work every single time, we've rounded up enough ideas that will help you have better luck with getting your landscape customers to pay faster.
1. Invoice Quickly
When you think of getting paid quickly, it might be easy to assume it's the client's fault. But how efficient are you about getting your invoices out? The faster you do that, the faster you'll get paid.
Of course, there are a lot of reasons why landscape companies are slow to invoice. When you're really busy, it's a task that can get pushed off. It can be time-consuming and tedious and frankly, something you don't like to do. We also hear from landscape contractors that they often forget to bill for add-on work. If a task is added on at the last minute and is different from what that client normally receives, it's more likely to be forgotten.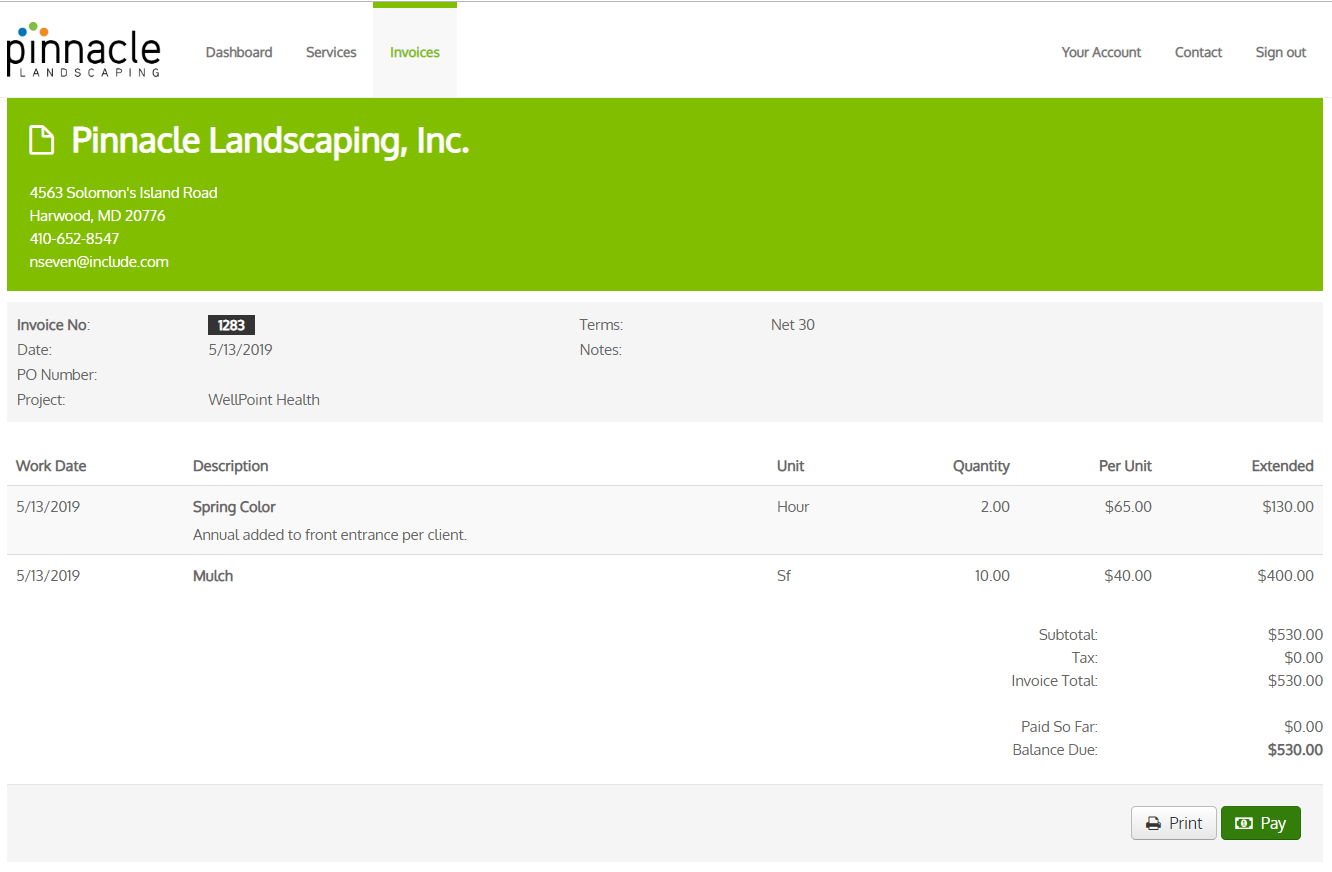 Unfortunately, failing to bill in a timely manner can have very negative consequences. Landscaping companies have told us that when they're slow to invoice for smaller jobs, it's more likely that the client will forget they even had the work done. This is also incredibly true for snow work. Once the snow event has passed, it's often also long-gone out of your clients' minds. Snow and ice management pros have told us that invoicing quickly is imperative for their business.
But how can do you that when you're busy and invoicing is a cumbersome task? Landscape business management software can help tremendously in speeding up the process for you. With software, you can have the ability to use the data for everyone who received the same service and then select them by task or description of that service in order to perform batch billing. This works well for maintenance tasks that are going to be the same from job to job and it can make the process so much quicker.
You can also use landscape business management software for reminders to perform invoicing. The last thing that you want to do is forget to bill for something and then decide to do it months later—at that point, the customer is going to be a lot more likely to come back and try to dispute the bill.
2. Be the Squeaky Wheel
It may seem obvious, but staying on top of your late or non-paying clients is important. You can start off by sending a gentle reminder when a bill is past due (usually around a week late is a good point). It sounds simple enough, but we've heard that it works. Sometimes people just forget—and there's nothing more to it than that. Life gets busy and they fall behind on tasks, including bill paying. A simple reminder can go a long way.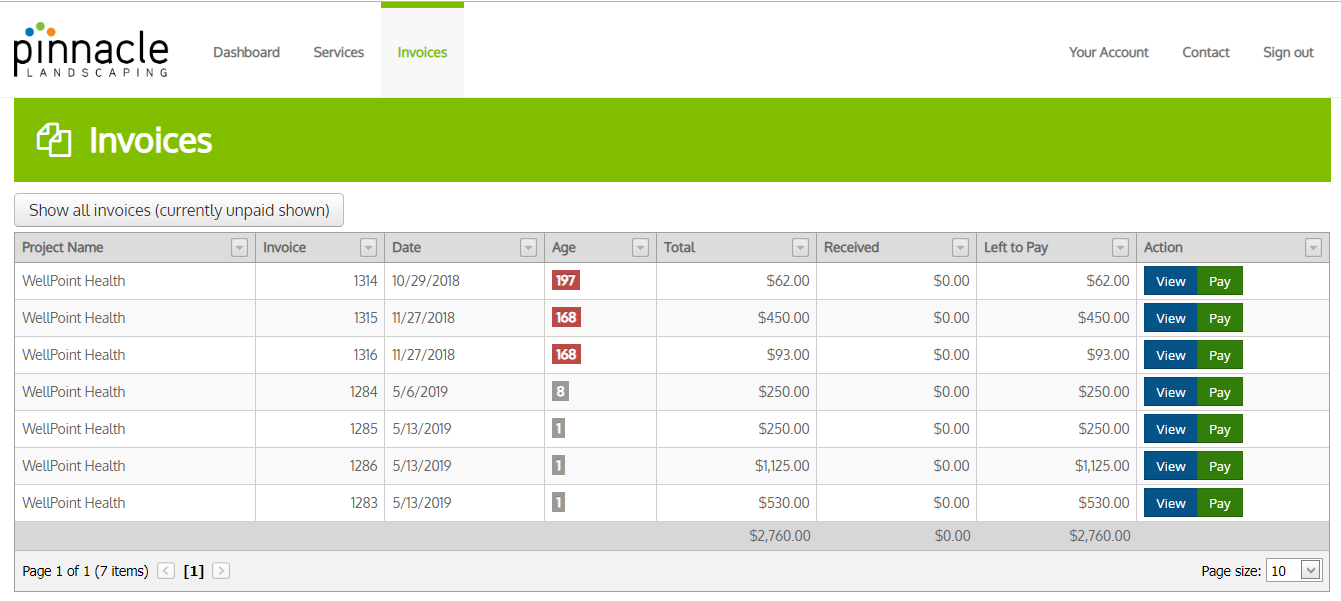 Of course, having to remind late-paying clients is an added hassle for you. But it doesn't have to be a lot of work. Just as you can use landscape business management software to set up reminders for invoicing, you can also use it to set up reminders for late payments. After all, the quicker you get out a reminder, the quicker you'll hopefully get paid.
3. Provide Incentives for Early Payments & Penalties for Late Ones
In order to avoid late payments, you can offer your customers incentives for paying before the bill's due date—or maybe even paying for the work upfront, before it's performed. The best incentive is a discount on services. You can determine what is most manageable for your company in terms of a percentage or dollar amount off.
On the flipside, some landscape contractors have told us that they also use late penalties. This is something that you should consider on a case-by-case basis as it's not always the right path. For one, you might have a customer who has never been late on a payment in their entire time working with you. Imposing a penalty fee on a loyal client may be a turnoff.
However, if you have a customer who is perpetually late, it might be something to consider. Adding a late payment charge can help let your customers know that you are a professional business and you expect to be treated as such. It also sets a precedent that this type of future behavior of late payments will not be tolerated.
Of course, no matter what your policies are, it's important that you are upfront and clear about them. Make sure that your clients know what your payment terms and conditions are. Clear communication on this issue will leave no room for misinterpretation or excuses. It will also provide you with leverage when you follow up with late-paying clients.
4. Be Flexible with Payment Options
You can also get paid more efficiently when you give customers more payment options. While there are certainly still plenty of landscape businesses that accept cash or checks, like most other industries, the movement has been toward credit cards and ACH (Automated Clearing House) payments, and these flexible options seem to be "paying off" (pun intended).
ACH, which is also referred to as "electronic checks," began as a system to allow businesses to receive direct electronic payments from clients' checking accounts. Landscape companies who are utilizing ACH have told us that it works well for a recurring monthly payment fee. It is less expensive than credit card payments because it bypasses interchange and assessment fees.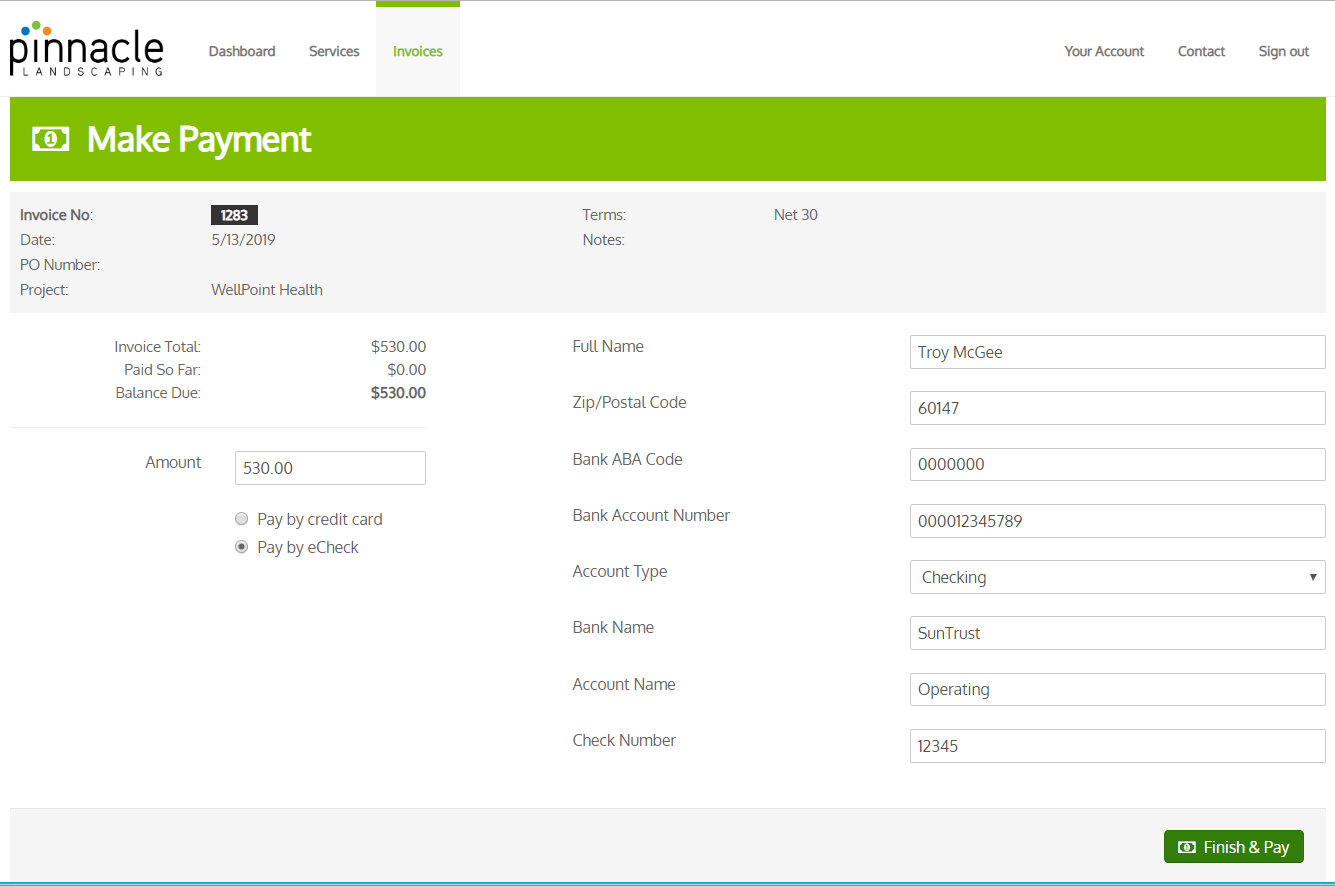 Of course, many customers want to use their credit card. Research has shown that more than 65 percent of customers prefer credit cards over any other form of payment. Oftentimes people have credit cards that earn them rewards or airline miles and they want to use them as often as possible.
Being mindful that customers want options, including ACH and credit cards, can help you to get paid faster.
Credit cards and ACH processing also benefits you with fast and efficient payments simply given the nature of how they work. These payments can be set up to be paid automatically meaning you won't have to spend time or resources hounding after late-paying clients. And even if clients aren't set up for autopay, many find it a lot easier to hop online and pay a bill than they do digging a checkbook out of a back drawer and mailing in a payment. On your end, this also decreases non-billable trips that you may have taken to stop by a client's house in-person for payment.
5. Implement Landscaping Customer Portal Software
While payment flexibility will help, utilizing landscaping customer portal software can make the process even more efficient for these types of payments. With a client portal, customers can take care of paying bills any time of day or night. For your busy clients, that's a big convenience and will make you more likely to get paid. After all, the easier that you can make it on your customers, the better.
Client portals are viewed as a valuable addition to your website and customers really appreciate them. Research has shown that many customers prefer "self-service" to human contact when interacting with a company. It allows them to take care of things on their own time.
Everything about the process is simplified. With customer portal software, customers are able to view their invoices and make payments with a credit card or an e-check. After making their payment, the account is automatically updated and the funds are automatically deposited into your company's bank account.
Help Your Lawn & Landscaping Customers Get the Most Out of their Experience with You
While these tactics won't necessarily work on every customer, the hope is that they will work for many. The more customers you can get to pay quickly, the better for your business.
By thinking about some of these approaches, you can also think about how you can make the overall experience of working with your company better for the customer. While paying their bill may not be their favorite part of working with you, like every other aspect of your landscaping business, you want to make it as easy and seamless as possible for them.
The best way to do this really does come down to a customer portal—a feature which also has added benefits for you, including saving you time and aggravation. It also makes you a great resource to your clients, not only allowing them to pay quickly but also to get the information they may need, any time of day.
Put simply, with Asset Client Portal, you become the resource that your customers really want and need. You become accessible and easy to work with and in turn, the hope is, they'll pay their bills efficiently. In the end, it can be a win for everyone.
Want to get started with landscape business software including a customer portal? Let's explore and see what Asset could do for your landscaping company.
Watch this Video to Learn How Asset Can Improve the Accounting & Administration Tasks at Your Landscaping Company